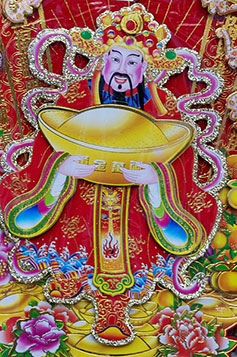 The God of Wealth presides over a vast bureaucracy with many minor deities under his authority. A majestic figure robed in exquisite silks often he is pictured riding a black tiger, a golden yuanbao is always close to him.

Legend says that every lunar New Year, Tsai Shen descends from heaven to inspect his followers. Many families worship the God of Wealth in the early morning, by offering incense and invite the god into their homes. Chinese people will eat dumplings on this day, as they are thought to resemble ancient ingots of precious metal.

People say that after being offered sacrifices, Tsai Shen leaves for heaven on the second day of the lunar New Year. People will burn the picture they welcomed on the New Year's Eve and see the deity off, wishing for a luckier and more prosperous year.