Guan Ping
Guan Ping also called Kuan P'ing, was General of the Kingdom Shu Han (蜀漢).
Guan Ping was the first son of the famed 3rd century military general Guan Yu. He had served a military post in the Kingdom of Shu (221- 263 AD) during the Three Kingdoms era (220- 280 AD) of China.

He was captured along with his father west of Maicheng (southeast of present day Dangyang, Hubei province) by forces of the Kingdom of Wu in 219 AD. Both were promptly executed.

In the 14th century historical novel 'Romance of the Three Kingdoms' by Luo Guanzhong, Guan Ping was said to have been adopted by Guan Yu when he was seventeen, as his true father requested to have him follow and assist the renowned general. Without a son then, Guan Yu took Guan Ping as his own.

Since the deification of Guan Yu in the Sui Dynasty, Guan Ping along with Zhou Cang (sometimes with Liao Hua as well) would often appear at the sides of this revered Chinese deity in statues placed in temples and shrines. Guan Ping's face is traditionally painted white, is a stark contrast to Zhou Cang's coal black complexion, while Guan Yu's tends to be shades of red.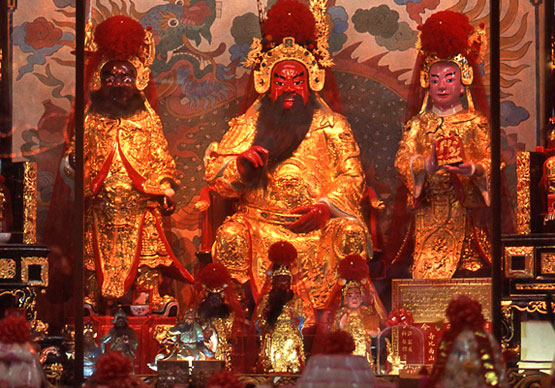 Images of (left to right) Zhou Cang (a fictional character ), Guan U, a Warlord, and Guan Ping, a General of Shu Han. The figurines are on display at San Chao Guan U Shrine/ Gong Wu Shrine, China Town, Bangkok
Photo © Valeska Gehrmann

See also:
Chinese Dynasties
History of China