Map is showing Georgia, the south Caucasian country between Russia in north and Turkey, Armenia, and Azerbaijan in south, the country borders the Black Sea in west.

With an area of 69,700 km², the country compared is about the size of Ireland, or slightly smaller than the U.S. state of South Carolina.

Georgia's landscape is largely mountainous, the Great Caucasus Mountain Range spans all along its northern border with Russia. In the central and southern part of the country runs the Lesser Caucasus range parallel to the Greater Caucasus, connected by the Likhi Range. On Georgia's eastern coast of the Black Sean is fertile Colchis (Kolkhet'is Dablobi) an ancient lowland, known to the Romans as the kingdom of Medea and the Golden fleece, the destination of the Argonauts.

The Kura River (Mtkvari) has its source in the Lesser Caucasus in Turkey and flows eastward to the Caspian Sea. The river was an important water source for many civilizations along its flood plains and fertile valleys, it was navigable up to Tbilisi, until the Soviet Union started building many dams and canals on the river in the 1950s.

Today (2015) Georgia has a population of 3.7 million inhabitants. Capital city is Tbilisi.
Spoken languages are Georgian (official), Russian, and Armenian.

Map shows Georgia and surrounding countries with international borders, region boundaries, the national capital Tbilisi, the autonomous regions Abkhazia and Adjara and the de facto independent area of South Ossetia.

Depicted are region capitals, major towns, main roads, railroads and major airports. Principal airport of Georgia is Tbilisi International Airport (IATA code TBS)

Border Countries: Armenia, Azerbaijan, Russia, Turkey




You are free to use this map for educational purposes, please refer to the Nations Online Project.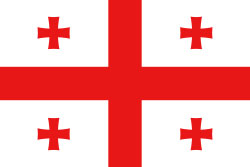 Bookmark/share this page


One World - Nations Online
all countries of the world