Map is showing Greenland, since 1979 a self-governing overseas administrative division of Denmark. The largest island in the world is located between the North Atlantic and the Arctic oceans, north east of Canada.

The island has an area of 2,166,086 km², making it the 12th largest country in the world, this is almost four times the size of France, or slightly more than three times the size of the U.S. state of Texas. M

ore than two-thirds of Greenland lies within the Arctic Circle.

Highest point is Gunnbjørn Fjeld with 3,700 m.

Greenland has a population of 55,984 (Jan 2015). Capital is Nuuk, spoken languages are Greenlandic (Kalaallisut) an Eskimo–Aleut language and Danish.

Greenland is covered by a flat to gradually sloping ice sheet which covers all but a narrow, mountainous, rocky coast. The icecap has an area of 1.75 million km² (almost the size of Mexico), with an average thickness of 2.3 km (1.4 mi), and holds estimated 7 percent of the world's freshwater. Greenland's more than fifty glaciers move ice from the interior of the island to the coast of the North Atlantic, where they break off as icebergs and eventually melt into the ocean.

The Greenland ice sheet has been one of the largest contributors to global sea-level rise over the past 20 years. A significant portion of this contribution is associated with the speed-up of an increased number of glaciers in southeast and northwest Greenland.
From 1996 to 2005 the velocity of many of Greenland's glaciers increased from 90 cubic km (22 cubic miles) per year to 220 cubic km (53 cubic miles) per year.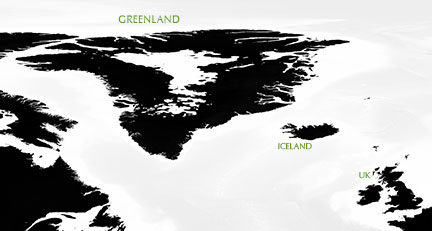 Black represents bedrock, white represents water at current level.

As temperatures around the world slowly climb, melt waters from these vast stores of ice add to rising sea levels. Greenland could rise the sea level by 7 meters (23 feet) if its ice melted completely. If the ice would melt completely we would be surprised by the fact that Greenland is not one but made up of two or three islands surrounding a vast sea. Hidden underneath the ice is Greenland's 'Grand Canyon', a recent discovery by NASA's Operation IceBridge in 2009, ice-penetrating radar data showed a huge subglacial canyon, carved into Greenland's bedrock. the depression is described as a mega-canyon, more than 400 mi long and up to a half mile deep.

Source: NASA and others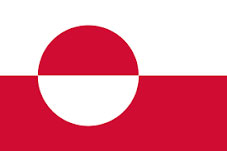 Bookmark/share this page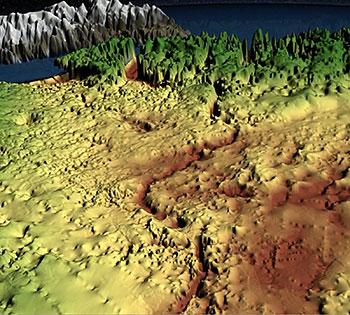 Image: NASA


One World - Nations Online
all countries of the world