Satellite View of Tanzania using Google Earth Data
Satellite view is showing the Eastern African country bordering the Indian Ocean.
De facto capital city of Tanzania is Dar es Salaam located at the coast on Tanzania mainland south of Zanzibar island, designated capital city is Dodoma, located in the geographic center of the country west of Lake Sulunga.

Spoken languages are Swahili and English (both official).

Countries with international borders to Tanzania are Burundi, Democratic Republic of the Congo, Kenya, Malawi, Mozambique, Rwanda, Uganda, and Zambia.

The map shows Tanzania with game reserves, national parks, lakes, cities, towns, main roads and streets.


To find a location use the form below. To view just the map, click on the "Map" button.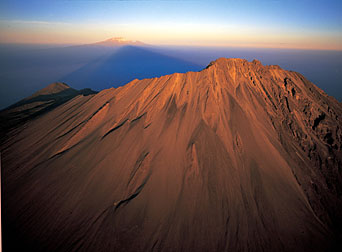 Mount Meru and Kilimanjaro in background.
Photo: Courtesy of Tanzania Tourist Board

To find a location type: street or place, city, optional: state, country.


Local Time Tanzania:

Saturday-August-1 21:07

Time Zone: East African Time (EAT)
GMT/UTC +3