Searchable Map and Satellite View of Nairobi using Google Earth Data
Satellite view is showing Nairobi, largest and most populous city, and the national capital of

Kenya. The city is located at the Nairobi River in the highlands, in the south-central part of the country. Nairobi lies on the central Kenyan plateau at an altitude of about 1,680 m (5,500 feet).
The city has an estimated urban population of between 3 and 4 million inhabitants. It is the commercial and cultural center of Kenya.

British colonists founded Nairobi in 1899 as a camp for laborers who were building the Mombasa–Lake Victoria–Uganda railroad line. It became the seat of the British administration in 1907 and was the capital of Kenya Colony from 1920 to 1963.

The map shows a city map of Nairobi with expressways, main roads and streets, zoom out to find the location of Jomo Kenyatta International Airport (IATA code: NBO), about 20 km (12 mi) east of Nairobi's Central Business District.

To find a location use the form below.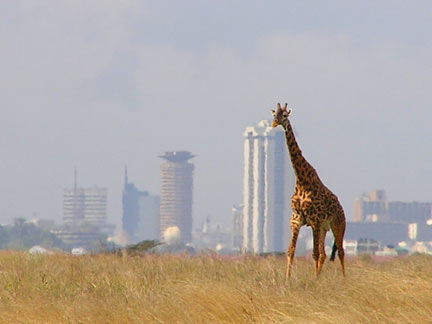 Giraffe in Nairobi-Park with Nairobi skyline in background.
Image: Mkimemia