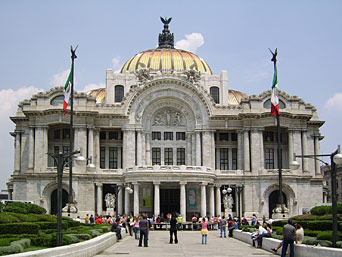 Palacio de Bellas Artes (Palace of the Fine Arts), downtown Mexico City. Photography by Alex Covarrubias
Searchable Map of Mexico City using Google Earth Data
Satellite view is showing Mexico City (Spanish: Ciudad de México), the most important economic, industrial and cultural center and the national capital of

Mexico.

The city is located in the Valley of Mexico, (Valley of Anáhuac), on the central Mexican plateau at an altitude of 2,240 m.

Founded about 1300 as the Aztec capital Tenochtitlán, it was destroyed in 1521 by the Spanish conquistador Cortés, who rebuilt it as the capital of New Spain.

Mexico's largest city has a population of more than 8,7 million inhabitants and more than 19,2 million live in its metropolitan area, making it the second largest metropolitan area in the Americas.
Official language is Spanish.

The Map shows Mexico City with expressways, main roads and streets, and the location of Benito Juárez International Airport IATA Code: MEX).
To find a location use the form below.