Searchable Map and Satellite View of Maputo using Google Earth Data
Satellite view is showing Maputo, chief port, largest city and the national capital of

Mozambique.
Maputo is located on the west side of Maputo Bay, at the estuary mouth of the Tembe River at the Indian Ocean in southeast Africa, about 60 km east of the border triangle of South Africa's Pretoria province, Swaziland and Mozambique.

Maputo has an estimated population of about 1 to 1.5 million inhabitants. Official language is Portuguese, Bantu languages in use.

Founded in the late 18th century, it became capital of Portuguese East Africa in 1907 and one of its most important ports. In 1975 Mozambique became independent, and the city was renamed in 1976 (formerly Lourenço Marques).

Just zoom in (+) to see the President's Residence, Hotel Polana, an impressive colonial building, and San Antonio Church, with its futuristic architecture.

The map shows a city map of Maputo with expressways, main roads and streets, and the location of Maputo International Airport (IATA code: MPM) is located in a distance of 3 mi (5 km) north of the city center.

To find a location use the form below. To view just the map, click on the "Map" button.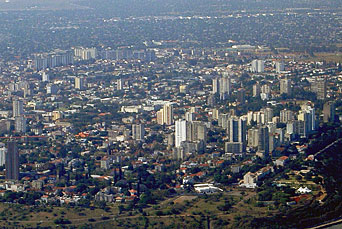 Aerial view of Maputo.
Photo: AmigoDia
To find a location type: street or place, city, optional: state, country.


Local Time Mozambique:

Thursday-November-27 06:13

UTC/GMT +2 hours