About Lille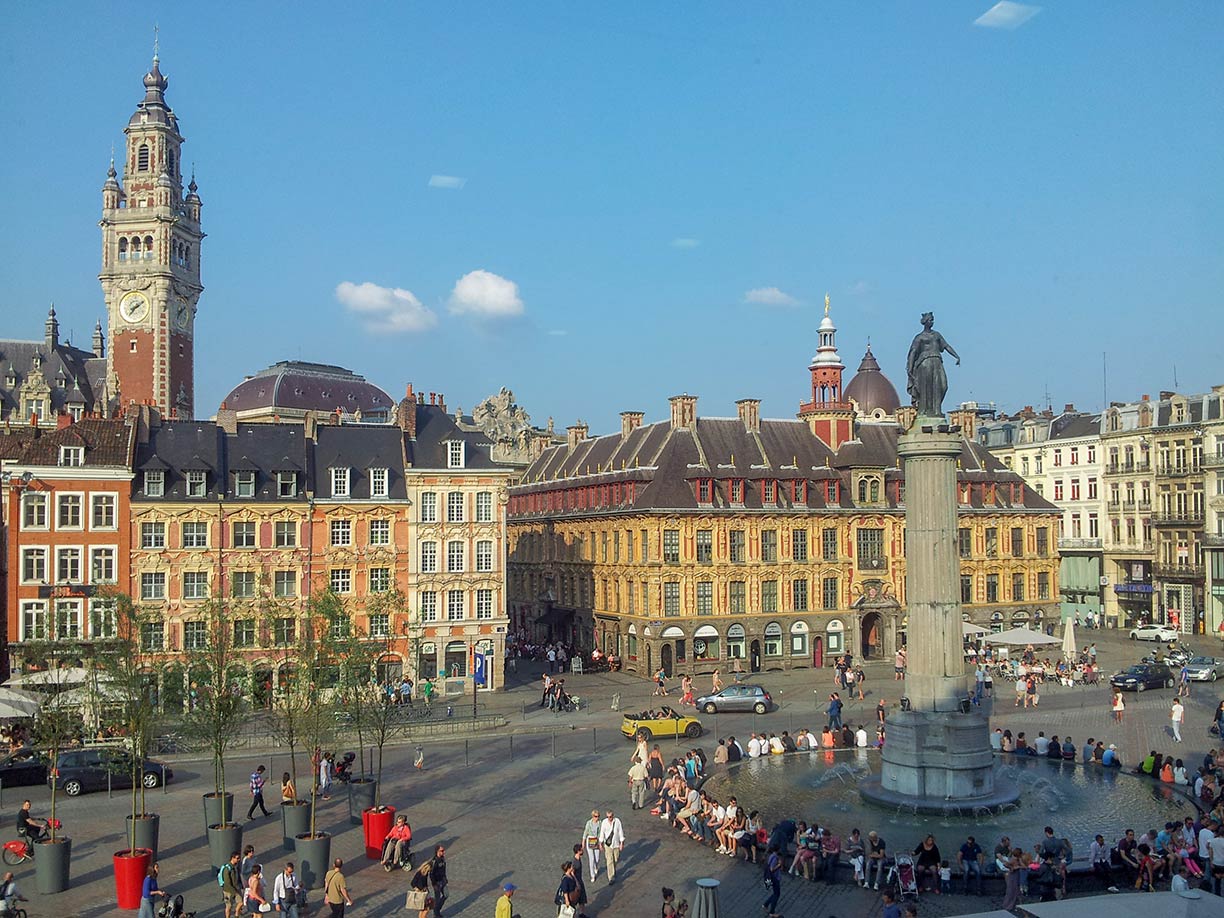 Image: Saber68
Map view showing Lille, a major river port and the tenth-largest city in

France.

The capital of the Hauts-de-France region (Nord-Pas-de-Calais-Picardie) and the seat of the prefecture of Nord department is situated in French Flanders, on the Deûle River, close to France's border with Belgium, about 110 km (93 mi) west of Brussels in Belgium and about 220 km (136 mi) northeast of Paris.

The Hauts-de-France region has a temperate oceanic climate, mean summers are mediocre and in winters temperatures can fall below freezing.

In the 11th century the town was fortified by Count Baldwin IV of Flanders, it became the medieval capital of Flanders and in the 16th century it was the residence of the dukes of Burgundy. Claimed by Louis XIV in 1667, in 1708 it was captured by the duke of Marlborough during the War of the Spanish Succession but was returned to France in 1713.

Today Lille is a major industrial and transportation center. The driverless Lille Metro, the world's first automated rapid transit was opened in April 1983. In 1993, a high-speed TGV train line was opened, connecting Paris with Lille. With the opening of the Channel Tunnel in 1994 and the arrival of the Eurostar train, set Lille at the center of a rail triangle connecting Paris, London and Brussels.


Image: Velvet

The city has a population of about 230,000 residents (in 2014), more than 1.1 million people live in Lille's metropolitan area, it is the fourth largest urban area (aire urbaine) in France.

Lille is also a university city, the Université Lille Nord de France is a center for for higher education and academic research, it possess several campuses in Lille, Calais and Dunkirk.

Lille points of interest:
Places: Lille Old Town (old flemish houses);
Museums: Palais des Beaux-Arts de Lille (fine and modern art, and antiquities), Lille Métropole Museum of Modern, Contemporary and Outsider Art (avant-garde artworks in Villeneuve d'Ascq), Musée d'Histoire Naturelle de Lille (natural history museum);
Opera, Theater: Opéra de Lille (neo-classical opera house with classical opera and ballet), Théâtre du Nord (drama), Le Splendid (cafe-theater company);
Churches: Basilica of Notre Dame de la Treille (cathedral and basilica from the 19th century, Lille Cathedral is a national monument of France), Église Saint-Maurice (14th century church in the historic centre of Lille)

In 2016 Lille was one of the host cities for the UEFA Euro 2016 football games, venue is the Stade Pierre-Mauroy, a stadium with 50,000 seats opened in August 2012, it is the new home of Le LOSC Lille's Ligue 1 football club.

The map shows a city map of Lille with expressways, main roads and streets, and the location of Lille Airport (IATA code: LIL) located about 10 km by road (via A1) south east of the city.

To find a location use the form below.

To find a location type: street or place, city, optional: state, country.


Local Time France:

Friday-May-25 15:07

Standard Time Zone (CET): UTC/GMT +1 hours
CEST (Daylight Saving Time) in use from end of March until end of October: time zone offset: UTC/GMT +2 hours