About Andorra la Vella

Satellite view is showing Andorra la Vella, the national capital of the

Principality of Andorra.

Andorra is a country, that is so small or great, that it would fit into one half of Berlin.

The country is located in the east Pyrenees, a mountain range in southwest Europe which marks the border between France and Spain, streching from the rough Atlantic coast in north to the amiable Mediterranean Sea in south.

Andorra's capital has a population of about 23,000 people, this would make it a provincial town in other places, however there are some US state capitals with less inhabitants.

The map shows a city map of Andorra la Vella with main roads and streets, and no, there is no airport in Andorra, next international airport is in Toulouse, France.

To find a location use the form below.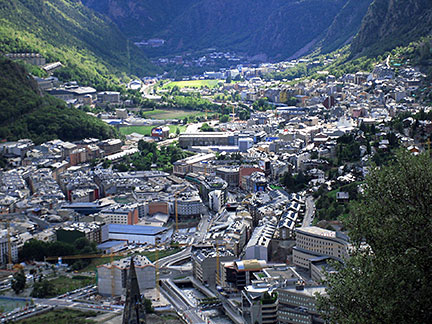 No, this is not the maintenance section of Elysium, the man-made space station from 2154, it's actually a photo of Andorra la Vella, the capital of Andorra.


Bookmark/share this page








To find a location type: street or place, city, optional: state, country.


Local Time Andorra:

Tuesday-December-1 08:28

Standard Time Zone (CET): UTC/GMT +1 hour
CEST (Daylight Saving Time) in use from end of March until end of October. Time zone offset: UTC/GMT +2 hours