Satellite View of Addis Ababa using Google Earth Data
Satellite view is showing Addis Ababa, the national capital of

Ethiopia, located almost in the center of the country in the foothills of Mount Entoto about 2,500 m (8,200 ft) above sea level.
In Addis Ababa located was the administrative center of the Organization of African Unity, an intergovernmental organization consisting of fifty-three African states (disbanded on 9 July 2002 and replaced by the African Union, which has one of its two administrative centers in Addis Ababa).
Addis Ababa has a population of about 4 million inhabitants. Official language is Amharic.

History (short version)
The city was founded in 1886 by Emperor Menelik II of Ethiopia. Addis became the capital of independent Ethiopia on 26 October 1896. Captured by the Italians in 1936, it was the capital of Italian East Africa but was captured during World War II by the British under Sir Alan Cunningham in 1941.

Just zoom in (+) to see the Ethiopian National Museum home to Lucy (Australopithecus afarensis), the famous 3.18 million years old skeletal remains of a female hominid, discovered in 1974 in the Awash Valley, Ethiopia.

The Map shows a city map of Addis Ababa with expressways, main roads and streets, zoom out to (-) find Bole International Airport (IATA code: ADD) located in the Bole area, 18 km (11 mi) east of the city center.

To find a location use the form below. To see just the map click on the "Map" Button.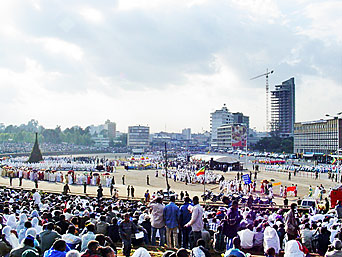 Meskel Square in Addis Ababa
Image: Ferit
To find a location type: street or place, city, optional: state, country.


Local Time Ethiopia:

Sunday-February-1 08:37

Timezone: EAT, UTC/GMT +3 hours