Equatorial Guinea is comprised of the Continental Region (Río Muni) on the African mainland and five inhabited islands in the

Bight of Biafra

(Atlantic Ocean). The map shows Equatorial Guinea with surrounding countries, international borders, provinces boundaries, the national capital Malabo on the island of Bioko (Isla de Bioko, formerly known as Fernando Poo), province capitals, major cities, main roads, and airports.

Border Countries: Cameroon, Gabon, Equatorial Guinea shares maritime borders with Nigeria and São Tomé and Príncipe.

Administrative Regions of Equatorial Guinea
Equatorial Guinea is divided in seven provinces.

Provinces of Equatorial Guinea (province capitals appear in brackets):
1. Annobón Province on the island Annobón (San Antonio de Palé)
2. Bioko Norte Province on the island Bioko (Malabo)
3. Bioko Sur Province on the island Bioko (Luba)

Provinces on African mainland; the Continental Region (Río Muni):
4. Centro Sur Province (Evinayong)
5. Kié-Ntem Province (Ebebiyín)
6. Litoral Province (Bata) includes the islands of the Corisco Bay.
7. Wele-Nzas Province (Mongomo)



You are free to use this map for educational purposes, please refer to the Nations Online Project.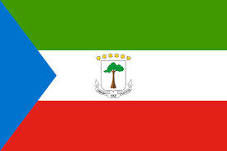 Bookmark/share this page


One World - Nations Online
All Countries of the World