Cambodia is a country located in the southeastern part of the Indochina Peninsula in Southeast Asia, it shares borders with Vietnam to the east, Laos in northeast, Thailand in west/northwest, and is bordered by the Gulf of Thailand in southwest.

With an area of 181,000 km² Cambodia is about half the size of Germany or slightly smaller than the U.S. state of Oklahoma.

Preah-reach-ana-chak Kampuchea is the official name of Cambodia, also Pra-Tehs Khmer, land of the Khmer.
Cambodia has a population of about 13.4 million inhabitants. Capital city is Phnom Penh. Spoken languages are, predominantly (90%) Khmer, a Mon–Khmer language, and Vietnamese (5%).

Geography
Cambodia's landscape is dominated by the low-lying central plain of the Tonle Sap Basin and the Mekong Lowlands, surrounded by uplands and low mountains in north, south west and to the east. The central plain is bisected from north to south by the Mekong River. Cambodia's largest river is navigable for larger vessels mainly in Cambodia and Vietnam, Phnom Penh is a major port. East of the Mekong the plain gradually merge with the eastern highlands, a remote region of densely forested mountains and high plateaus that extend into Laos and Vietnam.

Tonle Sap, the Great Lake, the largest natural lake in Southeast Asia, is actually a complicated combined lake/reservoir and river system. The lake is fed by numerous tributaries and usually the Tonle Sap river drains the Tonle Sap lake and flows to the south and into the Mekong at Phnom Penh, but during the rainy season (June-October), when the Mekong and the Bassac river swell up due to the enormous volume of water provided by monsoon rains, the Tonle Sap river reverses its course and becomes itself a tributary of the Great Lake which expands its size dramatically from 2 600 to 10 400 km².

In southwest in the provinces of Koh Kong, Kampong Speu, and Kampot, there are some low mountains, known to the locals as the Krâvanh Mountains, (Cardamom Mountains), a mountain range crowned with Cambodia's highest peak Phnom Aural (about 1,800 m) in the eastern part.
In south east, the Dâmrei Mountains (Elephant Mountains), an offshoot of the Krâvanh mountain range extends south to the Gulf of Siam.
North of the central plain, along the border between Thailand and Cambodia, are the Dângrêk Mountains, a chain of relatively low mountains, they form the southern edge of the Khorat Plateau of Isan, the north east region of Thailand.


Map is showing Cambodia and the surrounding countries with international borders, the national capital Phnom Penh, province capitals, major cities, main roads, railroads, major airports and the location of Cambodias two World Heritage sites, Angkor Wat, north of Tonle Sap Lake and the Temple of Preah Vihear in central north, near the Thai border.





You are free to use this map for educational purposes, please refer to the Nations Online Project.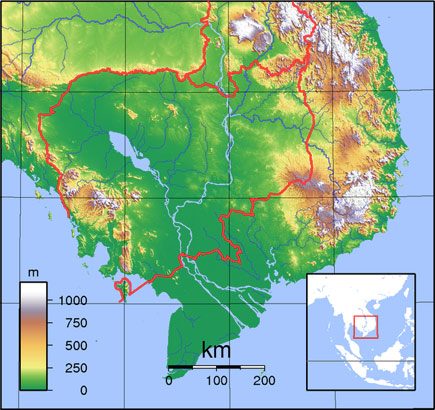 Cambodia topography map